This little girl is the only one of my ancestors, back to 1800, not born in south Ulster.
It brings to mind another little girl, her great-grandmother, who was born in India about 1794 and married 11 years later.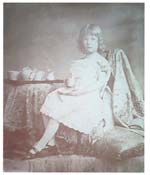 Family Genealogy By Peter Morell McWilliam
My Book
A family memoir based on the material in this site is currently in preparation.
Back to Top