This little girl is the only one of my ancestors, back to 1800, not born in south Ulster.
It brings to mind another little girl, her great-grandmother, who was born in India about 1794 and married 11 years later.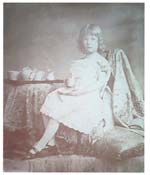 Family Genealogy By Peter Morell McWilliam
My Journey
I want to set the context for the story and lay out my stall as a scientist would. I automatically visualise the family in terms of genealogical trees or as points on a map where the various branches of the family lived.
Throughout my childhood we paid occasional visits to a little lake called Blaney ban just on the northern side of the Tyrone/Monaghan border above Clogher. A friend of my grandfather's owned a small boathouse and rowing boat on the lake. These visits were interrupted by the IRA's border campaign in the late 50s but were resumed soon afterwards.
I would have loved to explore but my enthusiasm for fine views was not shared by my siblings and so it was only recently that I paid my first visit to a nearby viewing point marked on the map and enjoyed one of the most spectacular views in my native county (see Home Page). I suspect that the whole of the borderlands region is visible; those parts that are not directly in view can be imagined.
The physical characteristics of the region have in part determined its history. A band of Drumlins stretching from Clew bay in Mayo through Leitrim, Cavan, Monaghan and Armagh to south Down reinforced by Loughs Erne and Neagh provide a natural barrier between north and south. A border is more than a line on a map; it represents a region and it is with this borderlands region that the history of my family since the plantation has been intimately bound up. For at least two hundred years every ancestor that I know of was born in or just north of this region. The only exception was my Dublin born paternal grandmother and her parents were both from the area and she returned to spend the last three-quarters of her life there.


The landscape is crossed by numerous man made markers. The oldest is the Black Pig's Dyke which can still be found in Monaghan, south Armagh and south Down. It dates to the Iron Age and the 1st century BC suggesting the existence even then of a border. Old Canals link Lough Erne to Lough Neagh and Lough Neagh to the sea at Newry. A spur of the Great Northern Railway stretches from Armagh through Monaghan to Cavan, linking the southern counties to Belfast and signifying the desire of Northerners to strengthen their connections with their southern brethren. No doubt the settlement patterns still reflect the complex working out of the Ulster Plantation.
Above all as I survey the scene I can visualize the towns and townlands occupied by my ancestors. To guide me on this journey – as well as a physical map - I'm aided by an extensive genealogy. Some of this material I have worked out for myself but in many cases I can rely on earlier family members who started the process of collecting the information.
My first guide is my father's uncle, Rev John Morell McWilliam, and the first part of the journey takes me back past Blayney ban down to Clogher and then along the Clogher valley to Aughnacloy and the nearby village of Carnteel.
[To be continued]
Back to Top