Lucas of Castleshane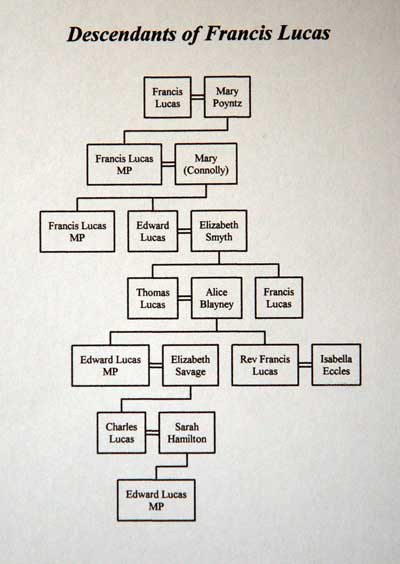 Shirley in his History of the County of Monaghan states:
that the lands of Shedan, alias Shean, in the County of Monaghan, belonged to the Rev John Symonds, Precentor of the Cathedral of Armagh, who died on the 23rd June, 1637. But in 1661 they had passed from that family, as appears by an inquisition dated in that year, by which it was found that Charles Bolton and Jane his wife, and Nicholas Seaver and Elianor his wife, had been owners, and had alienated them, by deed dated the 18th of January, 1656/7, to Mary Lucas, whose husband Francis died in the following autumn, leaving a son of the same name, of the age of fifteen, who was the ancestor of the present family of Lucas of Castleshane. The estate was erected into a manor by Charles II in the year 1783.
I'm not sure how this can be reconciled with the entries linked to the Down Survey on the TCD website or indeed with the following Parliamentary Report:
Castleshane Manor Estate 1683
The extent of the estate in the late 17th century is indicated in a report to be found in House of Commons papers of 1837. This was a report to a Select Committee on Manor Courts in Ireland.
Letters Patent constituting the manor, comprising the above-mentioned denomination of land, to be called the "Manor of Castleshane" were granted by Charles 11 to Francis Lucas Esq., of Castleshane and his heirs &c, dated 13 August 1683.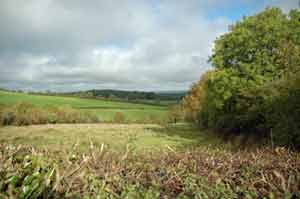 Townland of GREENMOUNT
Down Survey Name: Grenan
1641 Owner(s): McMahon, Hugh (Catholic)
1670 Owner(s): Lucas, Ffrancis (Protestant)
County: Monaghan
Barony: Cremorne
Parish: Clownetebret
Unprofitable land: 53 plantation acres

Profitable land: 50 plantation acres
Forfeited: 50 plantation acres
1659 Census
Total: 14
English: 14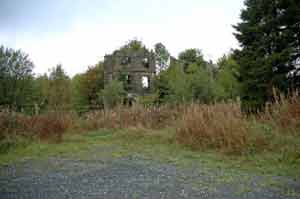 Townland of CASTLESHANE DEMESNE
Down Survey Name: Clonnavollie
1641 Owner(s): McMahon, Arthur (Catholic)
1670 Owner(s): Coote, Thomas (Protestant)
County: Monaghan
Barony: Monaghan
Parish: Tedownet
Profitable land: 36 plantation acres
Forfeited: 36 plantation acres
1659 Census
Total: 13
English: 11
Irish: 2
Thanks to Liam O'Connor for a tour of the demesne and surrounding countryside.
A good indication of the Castleshane estate (with apologies for my transcription) is given in the following entry in the Registry of Deeds
30:127:16795; 8th July 1720

Marriage settlement of Thomas Lucas & Alice Blayney
Edward Lucas, Thomas Lucas, eldest son & heir at law of Edward & the Rt Hon Alice Blayney, als Lucas, wife of Thomas & sister of Cadwallader, Ld Blayney, 1st part
Ld Blayney & Robt Maxwell of Falkland, Co Mon, 2nd part
Rev Thomas Smith, Dublin, 3rd part
Rt Hon Jas Caulfield & Marmaduke Coghill, DL, 4th part
Marriage already solemised
£500 to Edward & Thomas by Cadwallader
Manor of Sheane, als Castlesheane, Edinbrone, Amamorigan, Aghterfeigan, Tirevreiss, Lisminen, Solgeres, Cordowlybane, Cordoivlisduffe, Lennigore, Aghneglogh, Cormurphy, Lisrahegny, Cornyllin, Corskelly, Aghavrick, Aghlevenly, ThreeTates, Belghgreny, Twotates, Dromgelal, Grenan, Tollicormusky, foans, Duskea, Pollanes, Crossay, Mollan, Clemahorne, Tonagh, Lemgar, Cornehove, Drougallan, Lisnegreve, Dundronan, part of Aghneskew, Cashill, Avil, Corlagan, Annakess, Mulligary, Ainubagh, Lackall, Dormgore als Droingore, Corlea, Corlatt, Clerdrim, Shadrinlea Aghill, Fourtates, Deringbegg, Coronemucklogh, Toome, Crinkill, Duarlatt, Culmanen, Threetates, Gausker, Tonishallan, Clunnore, Cordonlis, Drorugneslin, Corclagan, Corclea, Deolin, Meynatt, Cree als Creve, Fourtates down, Cornebrandy, Letters, Two tates Ardclon, ----- ----, Lismagunshin, Evagh, Carricknure, Clarderry, Cornemucklagh & Latnakelly in Co Monaghan.
(see Legal Papers/Lucas deeds for a list of the townlands in the estate in 1683)
Francis Lucas MP d.1746
From History of the Irish Parliament, Edith Mary Johnston-Liik:
Francis Lucas (1646-1705) and his son, Francis (1669-1746) were both elected to the Irish Parliament for the county of Monaghan in 1695 but both were declared 'Not Duly Elected'.
Francis, jun, was High Sheriff for Monaghan in 1703 and was elected to Parliament for the Borough of Monaghan in 1713, 15 & 27, sitting till his death in 1746.
When he came into parliament in 1713 he was classed as a Tory, and in 1719 was thought likely to be an opponent to the repeal of the Test Clause against Dissenters, who were fairly strong in North Monaghan. He supported the establishment of a national bank on both occasions that a vote was taken on it.
Francis Lucas, MP, Trustee for the Linen Board of Ulster, 1732-d & in 1733 he introduced the heads of 7 Geo II c 10, 'An Act for the further Regulation and Improvement of the Flaxen & Hempen Manufactures' which attempted the market regulation of the industry.
He was a foundation member of the Dublin Society, 1731
A copy of a survey of Co Monaghan by Archdeacon Cranston & Mr Lucas, 1739 for the Irish Society is kept in the unsorted Lodge manuscripts in the Robinson Library in Armagh
Mr Lucas is not identified by first name but Francis would be the best guess. The report notes that Edward Lucas of Castleshane, younger brother of Francis, was one of the initiators of the industry in Monaghan. An extract from this report suggests a continuing family interest in the industry and also the progress of the industry in the county in the early 18th century; it notes that on a certain estate in the county (presumably Castleshane) in the year 1703 'there was but one bushel of foreign flax seed sowed, & in this year viz 1738 upon the same estate above thirty Hogsheads, and there is now as much linen cloath sold in this county as ever exported in the year 1703 from the whole kingdom'.
Francis never married and on his death the Castleshane estate was inherited by his brother, Edward. It would appear that Edward had always run the estate while Francis lived in Drumcondra, in Dublin. Some idea of his holdings, property and associates can be gauged from an extract of his will.
Parliamentary Representation
From A History of Monaghan by Denis Carolan Rushe

Members of the Irish Parliament for the Co Monaghan
1695 Francis Lucas, Castleshane elected MP but unseated
1761 Edward Lucas, Castleshane
1768 Edward Lucas, Castleshane
Members as above after the Act of Union
1834 Edward Lucas, Castleshane
1835 Edward Lucas
1837 Edward Lucas
List of MPs of the Borough of Monaghan
1713-1714 Francis Lucas, Esq
1715-1727 Francis Lucas, Esq
1727-1760 Francis Lucas, Esq, died, 1747
(Baptist Johnson, Esq in place of Francis Lucas, dec'd)
Edward Lucas Under Secretary of State for Ireland (1841-6)
PRONI: D562/1656: c.23 August 1757

Corporation of Monaghan. Draft Plea of Revd Francis Lucas to information against him for acting as a burgess. Claims he had a valid election
The plea of the Rev Francis Lucas to ye inform agt for acting as a Burgess of s'd Corporn that on 23 Aug 32.g.2 (32nd year of George II's reign) there was a vacancy of the office of a Free Burgess by the death of Fras Lucas Esq who had been one of the 12 Free Burgesses of said Borough. That on said 31 Aug there were the Provost & 11 free Burgesses living. That on said 31 Aug the Provost & 3 Burgesses assembled in order to elect a burgess – 3 other Burgesses then in Monaghan & had notice of said assembly &
---ionally summond to attend – 4 other Burgesses not then within many miles of s'd Borough – Anketell another Burgess summond but did not attend – a By Law whereby the Provost & the resident Burgesses or the major part of them may elect a Burgess – the Provost & ye 3 Burgesses so assembled did vote for Dpt & the Provost declared that Dpt was duly elected a Burgess – the Provost and ye 3 Burgesses signed an entry in the Corporation Book of Dpt's election – Anketill came afterwards & approved of the election & subscribed the entry – was duly elected as aforesaid into the office of a free Burgess vacant as aforesaid – Sworn a Burgess on the 26 Aug
Francis Lucas Esq was never duly elected a Burgess & this is the point upon which the validity of Edward Lucas' election into the office of Provost will depend.

Rev Francis Lucas was a nephew of Francis Lucas, Esq, dec'd & a brother of Edward Lucas MP (& my 5x great grandfather)
Edward Lucas (Under Secretary of State)
The Right Hon Edward Lucas, of Castleshane, MP for the County of Monaghan, 1834-41, Under-Secretary of State for Ireland, 1841-46
He was chairman of the Relief Commission for Ireland, which held its first meeting on Nov 20th, 1845.
Apparently the first member of the Grand Jury to declare for Catholic Emancipation although his politics were Tory - pg 48 the Assembled Commons or, Parliamentary Biographer
PRONI Reference : D714/7/3: Dates : 31 July 1845

Description : Copy of letter from E. Lucas, Dublin Castle, to James Watson. Acknowledges, for the Lord Lieutenant, a letter in which his correspondent stated that he signed the resolutions of the Lisburn Orangemen as Chairman, and not as Deputy Lieutenant.
"... The subject of Orange Societies has anxiously engaged the attention of the Crown and Legislature." In 1836 King William IV, in reply to an address of the House of Commons, agreed to take measures "for the effective discouragement of Orange Lodges, and generally of all political societies excluding persons of a different religious faith, using secret signs, and symbols, and acting by means of associated branches". Acts of 6 and 7 Wm. IV Cap.38, 2 and 3 Victoria Cap.74, and 7 and 8 Victoria Cap.78, which "put an end to the legal existence" of Orange Lodges.
"... You have nevertheless thought fit, while bearing the Commission of the Peace and the Office of Deputy Lieutenant for the County of Antrim to ... act as Chairman of a meeting, at which ... resolutions were passed ... 'that we deem it essential to take immediate steps to reorganise the Orange Institution in the County ...'
His Excellency cannot reconcile your concurrence in such a resolution ... with the duties incumbent on you as a Justice of the Peace, or as a Deputy Lieutenant.
... You have encouraged assemblies, the result of which in an adjoining County has been a formidable affray, attended with loss of life.
In allowing the act to expire which prohibited Party Processions in Ireland Her Majesty reposed ... confidence in the loyalty and good sense of Her Majesty's subjects ... successful exertions have been made by many ... of the Magistracy, and gentry, towards the prevention of armed displays tending to excite breach of the peace ...
... A letter has been addressed to the Lieutenant of the County of Antrim, intimating your removal from the Office of Deputy Lieutenant.
The Lord Chancellor has your conduct under his consideration, with reference to your commission of the Peace ..."

from Christine Kinealy: The Great Irish Famine
The delay in the issuing of the government's instructions filled the Chairman, Edward Lucas, with alarm, particularly as he doubted whether the amount of relief would be sufficient to meet the approaching distress. In a report, on 20th Jan 1846, he was critical of various aspects of government relief policy.
'numerous cases of distress are likely to occur and some are near at hand, for which the Act (Extension of Public Works Act) nor any other, as far as we know, in existence or even in contemplation of the government, can provide an effectual remedy'.
Lucas confirmed that potato blight was present in every county and every Poor Law Union in Ireland. Out of 2,049 electoral divisions, 1,400 had blight - can't be sure that the other 600 had escaped. Because loss to blight was patchy Lucas believed that the system of public works envisioned was not suitable. He also doubts:
'whether any adjustment of public works can be made to meet the need wherever it may occur; and it must be met, or death from famine may be the result'.
It is perhaps no coincidence that shortly afterwards, Lucas, who had been so critical of the policies of the government, was replaced as Chairman of the Relief Commission.
Links to main Family Index / Blayney of Castleblayney / Eccles of Fintona / Harris of Mullandavagh
Back to Top