McWilliams of Carnteel
The precise link to Carnteel village according to what my great uncle Jack was told by his father, William McWilliam, is to John (1766-1826) and Eleanor (1770-1843) McWilliams who are buried in Aughnacloy graveyard but it is not possible to go back further with certainty. There were very many McWilliams families in Carnteel village and parish including Aughnacloy throughout the eighteenth and the first half of the ninteenth centuries, presumably all or mostly related. They were of sufficient standing in the community to appear in the Vestry books throughout the 18th century.
The first mention of the name in the area is a John McWilliams of Loughans who is recorded in the Hearth Money Rolls in 1666. He may well have come to the region in the aftermath of the 1641 rising which affected the village – the church was destroyed.
There are many more recorded in the religious census of 1766 and the records of both Aughnacloy Church of Ireland and Presbyterian Churches in the first half of the 19th century are full of them.
The numbers diminish sharply in the mid-nineteenth century presumably as a result of the famine.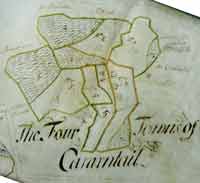 from Supplement to the McWILLIAM FAMILY RECORD by JOHN MORELL McWILLIAM
In 1726 maps of the lands owned by William Stewart of Killymoon were drawn by Arthure Atkinson. One of these gives The Four Towns of Cararntail. These are Shean O'lurg, Liskinduff, Annabogg and Carrantail of Cararntail. The village and commons of Carnteel is shown, and beside the village there is shown the land held by John McWilliams, 25 acres, 3 roods, 26 perches. On the other holdings, houses are shown but none on the McWilliam land. Three houses are shown in the village immediately beside John McWilliams' land and no doubt one of these was occupied by him. From the way in which the map is drawn, with the McWilliam land opening into the village and commons it looks as if this may all have belonged to him. Sometimes more than one McWilliam lived at Carnteel. On this map of 1726 Carnteel Church is not shown, but Church Park and Cross Glebe appear beside the village.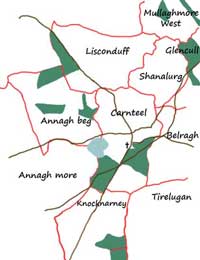 From the fact that the McWilliam land is shown as an "island" in the Stewart land it would seem that they were there before the Stewarts.
A photostate of this map with the descriptive sheet was given to JM McWilliam by PRONI which holds the original. Of course John McWilliam owned other land as well.
The descriptive sheet can no longer be located at PRONI.
I presume that the land referred to is the part of No 5 leading into No 4. It is interesting to compare this with the land held by various McWilliams in Griffiths Valuation. The townland shapes are virtually identical and the land held by John McWilliams in 1726 is held by Charles McWilliams in 1860; Charles then held 26 acres and his holding is the one just touching Carnteel Lake (see photograph).
McWilliams Origins
I have come across two documents from the first half of the 18th century. The first is a Gaelic poem mentioning Carnteel. The second – in broad Scots – is written to the Rev. Baptist Boyd of Aughnacloy from a former parishioner extolling the opportunities in the New World. They provide me with an elegant way of phrasing the enigma of origins of the McWilliam family.
Tarlach Rua Mac Dónaill
Bhí mé í Muine Mór is i gCaiseal Caifill,
I mBaile Uí Dhálaigh is i Lios na Sciath
Bhí mé i Muineacháin is ar a'Ghráinsigh
In Droichead Chúl Aine le corradh is bliain
De réir mar a tharla I nDroichead Atha mé
Anocht atá mé fá Charn tSiail.
Anois más rogha leat ar fheara Fáil mé
Seo mo lámh duit, bíom ag triall.
I was in Moneymore and Castlecaulfield,
In Ballygawley and Lisnaskea,
I was in Monaghan and in Grainseach,
And in Droichead Chúl Aine for much of the year
And as I chanced to be in Drogheda,
Tonight I'm here in Carnteel,
And if I'm your choice of the men of Ireland,
Give me your hand, love, and lets be away!
(early 18th century)
James Murray of New York to Rev Baptist Boyd of Aughnacloy - 1737
Reverend Baptist Boyd,
Read this Letter, and look, and tell aw the poor Folk of your Place, that God has open'd a Door for their Deliverance; for here is ne Scant of Breed here, and if your Sons Samuel and James Boyd was but come here, they wad get mere Money in ane Year for teechin a Letin Skulle . . . .
The young Foke in Ereland are aw but a Pack of Couards, for I will tell ye in short, this is a bonny Country, and aw Things grows here that ever I did see grow in Ereland . . .
Y-Chromosome DNA Analysis
I wonder which of these documents best represents their culture. Jack was of the opinion that we were native Irish who changed religion in the 17th century. During the plantation the region containing Carnteel and Aghaloo parishes was reserved for native Irish. However the name is common enough in the Clogher valley where it is almost invariably Protestant/Presbyterian. It also occurs further north in Derry where it seems to be Catholic. This suggests two separate origins – a hypothesis which appears to be confirmed by Y-chromosome DNA haplotype analysis.
My Y chromosome haplotype turns out to be R1a1a. (Other McWilliam haplotypes in Ulster are R1b.) This type is rather uncommon in these islands. While it occurs at a high frequency in Scandinavia and has been termed a 'Viking' haplotype my variant is most common in the south west of England (Devon & Cornwall). It would appear that the McWilliams in origin were not native Irish or Scottish. The crucial issue remains when did they come to Ireland and there are some clues. Y-chromosome matches have been identified to McWilliams from Clogher & Aghaloo parishes and while they show some mismatches are clearly related. The issue then becomes the time span necessary to accumulate that number of changes.
From an inspection of the Plantation of Ulster by five commissioners among whom was the Lord Deputy for Ireland, Sir Arthur Chichester:
Tyrone: Precinct of Clogher.
Sir Thomas Ridgway, vice-treasurer and treasurer at Wars in Ireland, undertaker for 2000 acres, has appeared in person. His agent is Emanuel Ley, resident this twelve month, who is to be made a freeholder under him. Sir Thomas brought from London and Devonshire, the 4th May, 1610, twelve carpenters, mostly with wives and families, who have since been resident, employed in felling timber, brought by Patrick McKenna of the Trugh [Trough], county Monaghan, none being in any part of the Barony of Clogher, or elsewhere nearer him, viz., 700 trees, 400 boards and planks, besides a quantity of stone, timber for tenements, with timber ready for the setting up of a water-mill. He is erecting a wardable castle and houses, to be finished about the next Spring. Ten masons work upon the castle, and two smiths. One Mr. Farefax, Mr. Laughton, Robert Williams, Henry Holland, and three of said carpenters are to be made freeholders. Other families are resident wherewith he will perform all things answerable to his covenants.
Sir Thomas Ridgeway came from Devon and his wife was apparently Cecilia McWilliam and it was he who built Augher Castle a few miles down the Clogher valley.
Muster Rolls ca. 1630: Tyrone, Barony de Dungannon, Henry Stewart esquire, undertaker of 1,500 acres; the names of his men & arms.
Snaphance only, James Williams
It is of course impossible to link these two individuals to John McWilliams in Loughans townland in 1666 (or indeed the wider McWilliam family in Carnteel & neighbouring parishes in the eighteenth century) but coupled with the Y-chromosome data which suggests a south of England origin for the family it represents an intriguing possibility and indicates the potential of further DNA studies.
Links to main Family Index / McWilliams of Creggan / DNA
Back to Top