Dickson of Woodville, Ballyshannon & Lavey
Origins of the Dicksons

The best known merchant originating in Ballyshannon was 'French Tom' Barton who went to Bordeaux in 1722 and ultimately founded the firm now known as Barton & Gustier. Though the firm still exists, it is no longer controlled by the original family.
Barton describes being 'bred up in the merchant business by his uncles, Tom & William Dickson'.
John Dickson & Everina Delap are identified as his grandparents from a memoir contained in a book by Bertram Barton in the National Library ca 1900
The link to Mary Wollstonecraft is somewhat speculative though her mother, Elizabeth, was the daughter of a Henry Dickson, and possibly the Henry as shown or his son (see entry for Henry Dickson in Family Trees/Dickson)
It is not clear where the Dickson's originated but a PRONI document (D3000/52/1) states that Thomas Dickson of Woodville (sic) came from Derry. He was engaged with Sir H Caldwell then a merchant in Ballyshannon in canning and salting provisions.
Some sense of the activities of Ballyshannon merchants can be gleaned from letters from Geo Macartney to John Delap in the 1680s. These are summarised in the index to PRONI; MIC19/2

Examples are:
2 August 1679 Geo Macartney to John Delap. Says the "Hope" of Donaghadee, John Ramsay master, will go to Ballyshannon to collect butter, so asks him to see what is ready. Says he also wants tallow and will send deal boards, and tar.
16 September 1679 Geo Macartney to John Delap. Says the "Hope" has set out. Asks him to provide the tallow as soon as possible. Says it is too late to freight a ship for Bordeaux, but he will buy some herrings and ox hides.
2 June 1680 Geo Macartney to John Delap. Says he has sent the vessel to Norway to collect the deals and take them to Ballyshannon and asks him to sell them.
3 August 1680 Geo Macartney to John Delap. Tells him if the vessel does not arrive for the salmon and butter, to send all in his own boat to Killybegs. Says he does not need any bullocks as trade is so poor.
14 December 1680 Geo Macartney to John Delap. Says he will buy no more tallow until the markets improve . . . Says when the "olive Branch" comes back from Bordeaux he will send her for hides. Orders butter and salmon for the following season and says when they are ready he will send two ships for them, one with salt, the other with fir deals.
In 1687 John Delap held 6 ballyboes adjoining Portnason and the quarter of Dunmuckrome; he also held the houses of Portnason & a ballybo of land, store house and Tann house at Beleek.
By 1718 the commercial property of John Delap had passed to Sir Henry Caldwell. It could be speculated that Thomas Dickson started his career apprenticed to his mother's relative, John Delap, and on the latter's death continued to work for a period with the latter's partner, Sir Henry Caldwell
The first actual mention of the Dicksons is in a letter in the Castletown Papers written by Thomas & William Dickson in 1704. (Thomas had recently married Conolly's sister, Elizabeth but whether Conolly was the recipient of the letter is unclear.)
Ballyshannon Aug 19th 1704
Dear Sir,
We have been looking at Tulley/Talley & tho it be very dear yet because it is so nigh & convenient for us we are willing to give the £400 that is £300 & £100 next May at which times we shall take due care that ye money be in Mr Cairnes hands of Dublin redey either for you or Mr Jones. So desires the favour of you to write Mr Jones & secure it us . . .
Sir your humble servant
Tho & Wm Dickson
In 1718 Thomas Dickson became the agent to William Conolly inBallyshannon. A series of letters from him to Conolly in this capacity are preserved in the Castletown papers (see Letters).
A number of deeds relating to the Dicksons and also rent rolls dating from the 1680s to the 1790s from Conolly's Ballyshannon Estate can be found in Legal Papers (see Dickson Deeds & Conolly deeds)
William seems to have concentrated on fisheries.
100:268:70443 - 24th Nov, 1740
Wm Dickson of B'sh, merchant & John Dickson of B'sh, esq
cites Benj Barton, Dublin, Alderman, dec'd
deed of 1713 to Wm Dickson & to Wm & John Jemison, both of Sligo, Coopers
Salmon & eel fishing of Sligo; yearly rent of £140
Wm D to John D 1/3 part

In the 1728 Ballyshannon Rent Rolls:
Wm Dickson is leasing a Park & tanhouse, commenced Nov 1723, & Customs and eel fishing commenced May 1728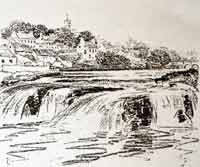 Ballyshannon July 16th 1728
Dear Brother (ie William Conolly)
My brother desires the favour of you that you allow him liberty to send over to Killibegs the salmon, there being a bark there now that would take some of them over; they shall be in my possession there for you till you are satisfied. We have now about 45 or 46 tons and does not fear, though the boats have left off fishing, to make up 50 tons by what will be got in the weirs. There is one [Jam] Law that has a ship in Killibegs that's taking passengers for New England. Several tradesmen and young men from about this town is going with him, but none of the tenants although there is several of them intends going there the next summer. I hear there are a great many families gone there this year out of the Laggan. I hope by this you have got the better of your disorder.
I am, Sir, your affectionate brother, Thos: Dickson
In the 1748 Rent Roll Thomas' son, Thomas was leasing the Bundrows fishing & part of Maghreycarr, & Customs & Fishing in Ballyshannon; he was described as a merchant.
Thomas' two youngest surviving sons, Thomas & James continued acting as merchants. James was described as 'of Bordeaux' when he was made Freemen of Londonderry in 1735.
While his two younger brothers continued to operate as merchants, the marriage settlement of the eldest son, John, (see below) shows that he inherited a substantial land holding from his father, Thomas, and his uncle, William. He also had income from other sources:
When his father died John replaced him as agent for some of William Conolly, juniors estate. I'm unclear on the split of responsibilities between the Dicksons and Henry Major who was also agent at this time.
John was also Collector (Customs & Excise) for the Killybegs area around 1749. Such appointments were dependent on patronage at the highest societal levels.
Marriage Settlement: John Dickson & Frances Eccles
(see Legal Papers/Marriage Settlements/Dickson)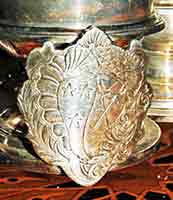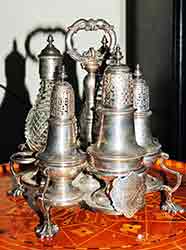 This silver Cruet set, dated 1743, may have been a wedding gift.
John Dickson, of Ballyshannon, Donegal, 1st part
Daniel Eccles of Castletown, Tyrone, 2nd part
Frances Eccles Eldest daughter, 2nd part
Robert Lowry of Melbury & Anthony Coane, Strabane, 3rd part
John Dickson gives 3rd parties lands, tenements and
hereditaments of
Gortesill orse Gortnessillagh
Rosclogher orse Roscitogher
Ballymore
Upper & lower Gortenda orse Gortindaragh
& cornmill upon the lands of Rosclogher
Tully orse Thully
Garbally orse Garnhally
Cloonebeag orse Cloonty
All situated & lying in the barony of Rossclogher, Co Leitrim
& land known as Cooltally Mountain
& tenements known as the Ball Place
& the garden therein belonging to the town of Ballyshannon
& 1 field or park of land called Castle Parke situate on the east side of said tenement
& Park called Delaps Park
& Park called Garve Park all situate in Ballyshannon
& 1/3 part share in mills of Fisherys of Sligo in the town of Sligo
In the presence of Galbraith Lowry of Aghenis
Witnesses Robt Eccles, Castletown & George ----, Omagh
Surprisingly there is no mention of a marriage portion.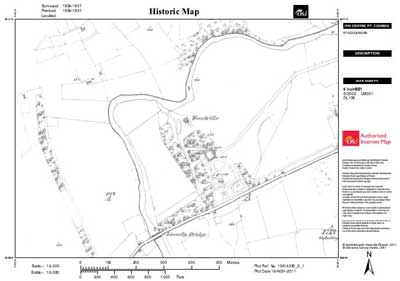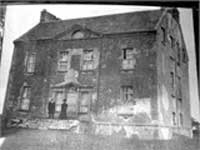 John's daughter, Anna, married her cousin Daniel Eccles while his son, Thomas married Hester Lowry a first cousin of the first Lord Belmore.
When he married Thomas was living in Duncarbry Lodge but later built Woodville in Tawly townland, which his grandfather had purchased in 1704. The house was demolished ca. 1900.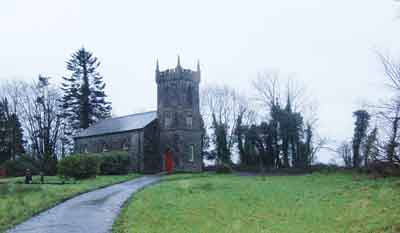 My descent is from a younger son of Thomas, Rev James Lowry Dickson.
James was successively Rector of the Parishes of Rossinver in Co Leitrim, where Woodville is located, Knockbride and finally Lavey in Co Cavan where he died in 1861.
I have some letters written by his daughters and addressed from Lavey Cottege or in one case Lavey 'Chateaux'. This house, according to Griffith was located just across the road from Lavey Church of Ireland.
Letter to Rev Daniel Dickson, Maryport, Cumberland - 1855.
Drst. Daniel,
I would have written sooner only found you were going to see the Bishop, was it a visitation or private business ------ how long did you remain with him, I thank you for telling me that you are so comfortable but you did not tell me if you were alone in the house, that is what I don't like. What is your rector's name Does he live in the town or near it, yr church I suppose is in the town, is it a large town much business done in it Your lodgings I am sure are pleasent with the view you have but the winter blast will not be so agreeable is the shore stony or sandy don't go alone bathing as you do not know the shore
The pony I am told is quite well of her lameness she was so lame that she could not be sent to Ballyhaise.

Sent by his mother, Mary (Eccles) Dickson from Co Cavan
When Rev Daniel Dickson died in 1906, William McWilliam, who married his niece, & the latter's son, John went to the rectory to settle his affairs. He had been in the habit of throwing bills & letters into a spare room, and John saved a number of these, including the above, which he subsequently deposited in PRONI (see Letters/Dickson women)
The silver cruet shown above passed from Rev Daniel Dickson to Rev John McWilliam and from him to me.
The Times, London, Middlesex, England : June 15, 1843
TRAGICAL OCCURRENCE. - We regret to have to announce the death of the Rev. James Lowry DICKSON, rector of Lavey, county of Cavan, under the following melancholy circumstances:- It appears that on Wednesday last Mr. DICKSON, having returned home from Cavan, felt somewhat fatigued, and after dinner retired to bed. Mrs. DICKSON being out visiting at the time, there was no person in the house but the servant maid and a person named ECCLES, a relative of Mrs. DICKSON, who unfortunately is subject at intervals to fits of mental derangement. This person having entered the dining-room after Mr. DICKSON had retired, and having partaken copiously of a decanter of spirits, which he found on the sideboard, commenced smashing the glasses, & when the servant maid, although well aware of the danger she incurred by interfering, came to the door and forbade him to act in such a manner, whereupon he pursued her upstairs, whither she fled to one of the bed-rooms for refuge. On reaching the lobby, the maniac darted into Mr. DICKSON'S room, who was then in a profound sleep - alas! a "sleep that was to know no waking" - and having seized a razor which lay upon the dressing-table, with one stroke of (illegible) weapon completely cut the trachea, by which respiration was instantaneously suspended, and the vital spark extinguished. An inquest was held on the body on Thursday, where a verdict in accordance with the foregoing circumstances was returned.
In fact the Rev Dickson survived till 1861 and his wife predeceased him.
The Times published a retraction two days later under the headline 'Atrocious Misrepresentation'. It appears that they received a document containing the above information which they published in good faith. They offered a reward for information etc so if anyone has any ideas concerning the identity of the pranksters there may still be 20l. awaiting collection.

Links to main Family Index / Conolly of Ballyshannon / Eccles of Fintona / Lowry of Aghenis / Morell of Ballybay

Back to Top