Kennedy of Tullylish
Kennedy Genealogy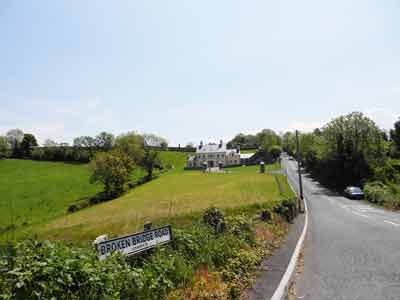 The linen industry in the Banbridge / Gilford region and the parishes of Tullylish / Seapatrick was long standing. Alexander Christy, a Quaker in Moyallen is credited with introducing the industry to the Upper Bann in 1675. As the linen industry developed a group of Quaker families (Richardson, Wakefield, Christy, Uprichard & Nicholson) became engaged along the Upper Bann between Moyallen & Gilford.
Lewis in his Topographical Dictionary in 1837 states that in 1772 around Banbridge there were no less than 26 bleach greens on the river Bann, with the trade being principally carried on at Gilford.
The Ordnance Survey Memoirs (1834) for Tullylish & Seapatrick detail numerous bleach greens and mills (see box further down).
Samuel Clugston & his brother, William married two sisters, Maggie & Lizzie Kennedy respectively. In their marriage certificates their father was given as William Kennedy, farmer of Lenaderg.
Maggie was baptised in Tullylish Presbyterian Church in 1846 to William & Rachel Kennedy of Lenaderg; Lizzie in 1841. There were other children including James in 1835.

There is no record for the marriage of William and Rachel in this church. Initially I was forced to infer that Rachel's maiden name was Sands since one of their grandchildren was baptised Hugh Sands Clugston. Subsequently I did find a record of the marriage of William Kennedy and Rachel Sands, both of Ballykelly in Holy Trinity, Church of Ireland, Banbridge on 31st August, 1831.

In the Tithe Applotment Books for Seapatrick there is a Hugh Sands of Ballykelly. Since William & Rachel baptised a child Hugh & had a grandchild Hugh Sands Clugston, it seems plausible that Rachel's father was Hugh.
According to her death certificate in 1869, Rachel was born about 1805. There is no record of her baptism around that date. However Hugh Sands & Emilia/Elizabeth Mitchel of Duchery baptised William & John in 1809 & 1814 respectively. It is impossible to conclude that this couple are indeed the parents of Rachel and in the absence of additional documentary evidence it can only be hoped that DNA evidence can be found to link these names together (or not).
There are some records for Kennedy's in Lenaderg townland: Freeholder Voters, Tithe Books and Griffith's Valuation:
Freeholder records:
James Kennedy, Lenaderg - Banbridge, May 27th 1819
Landlord; Turner Camac
James Kennedy for lives of Thomas Kennedy, James his son & Prince of Wales
Tithe Applotment Books 1833: Lenaderg townland, Tullylish parish
James Kennedy held 5 3 20 in three lots
Robert Kennedy held 7 0 10
Griffiths Valuation: Lenaderg (Tullylish)
5-33 Wm Kennedy, lessor, Wm & John Smyth, jnr, Hse, off, land (This holding was cancelled in 1902)
8A Robert Kennedy, Lessor Alexer JR Stewart Hse, off, land 9.3.0
8B Do Do 2.1.5
9 Wm Kennedy, Lessor Alexer JR Stewart Hse, off, land 14.1.22
William Kennedy, the father of Maggie, Lizzie & James died in 1876 so he cannot be the holder of the smaller holding. The holder of 9 changed from William to James in the 1870s. This would suggest that James who held this holding in the Tithe Books might have been the father of William but it is impossible to be certain.
Ideally to confirm these speculations via DNA, I would need 4th/5th cousins with Ancestry back to 1800 and deriving from the 'putative' ancestors of William & Rachel. Most of my matches (even if derived from these lines) will likely be more distant. Even if I do identify matches in the 4th-5th cousin range, they may suffer from a similar lack of good connecting genealogy.
Clugston genealogy
Starting from the same two marriage certificates and the records of Tullylish Presbyterian Church it is possible to create a more coherent story about the Clugstons.
The father of William & Samuel Clugston who married Lizzie and Maggie Kennedy was John Clugston. The church records give a list of the children of John & Margaret Clugston of Lisnafiffy and both are buried in the church graveyard with some of their descendants.
Both of the gravestones shown near the front of the church are of Clugstons. John Clugston, his wife, Margaret and some descendants are under the larger stone, suggesting some modest degree of affluence.
(see Church Records / Tullylish /Graveyard inscriptions)
There is no record of the marriage of John & Margaret in either the non-Catholic civil marriage records (1845-64) or the Tullylish marriage register. It is possible that they married in some other church since there is also no record of the baptism of their eldest son, William in the Tullylish Presbyterian baptismal register either.
[At some point in the 1830s in Tullylish Presbyterian Church the minister, Rev John Johnston officiated at the marriage of an Established Church man and a Presbyterian woman. Subsequently the man contracted another marriage and was prosecuted for bigamy. He argued that the first marriage wasn't valid. The case went all the way to the English Supreme Court or Law Lords who in a split decision found in his favour. One result was the establishment of the Civil Registration of non-Catholic marriages.]
It is possible that Margaret Clugston's maiden name was Brown. Two of her grandchildren were baptised Margaret Brown Clugston & Hugh Brown Clugston. In addition an executor of the will of William Brown of Drumarrin, near Gilford was Robert Clugston, possibly a nephew.
This is the sort of situation where DNA studies might prove useful if a match could be identified to someone who can trace an ancestry back to a Brown in this parish.
Clugston Farms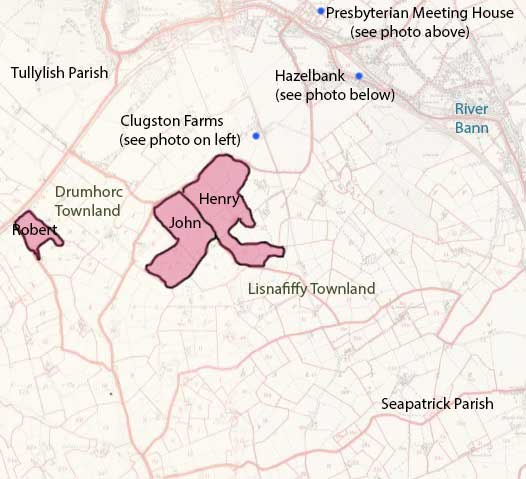 Lisnafiffy is partly in the parish of Seapatrick (431 acres), partly in Tullylish (209 acres). The division was first noted on Petty's barony map of c.1657, explained in 1661 as two sessiaghs in Seapatrick, one in Tullylish.
The Warings held the portion in Tullylish and one of the two moieties in Seapatrick. This can be easily worked out from an inspection of the map accompanying Griffith's Valuation. They owned the southern part. They also owned Drumhorc which adjoins Lisnafiffy.
Griffiths Valuation shows that John Clugston held two blocks of land totalling 27 acres in Lisnafiffy/Tullylish while Henry Clugston had a contiguous holding of 34 acres in Lisnafify/Seapatrick. I can't tell how many genes they shared but the the accompanying photo shows that they did share a drumlin. I tend to forget that the drumlins that are such a ubiquitous feature of the Monaghan landscape stretch from Clew bay in Mayo right across to south Down. Two paths lead up to farmhouses concealed by trees on the top of the hill.
A Robert Clugston held 8 acres in the neighbouring townland of Drumhorc.

Extending the Clugston genealogy back a further generation is made possible by my own family's private hen's tooth, the rare survival of a census extract from 1821 transcribed in the Crossle papers.
P[arish] Tullylish ba[rony] Lower Iveagh Co Down
No 2 Townland Drumhurk one story home
Robert Clugston aged 40 bleacher and weaver
Kitty his wife aged 35 flax spinner
John his son aged 11
Robert his son aged 4
Samuel his son aged 1
Mary his daughter aged 14 flax spinner
Ann his daughter aged 6 flax spinner
It is possible to link three of the children (Mary, John and Robert) in this family grouping to my family through a mixture of baptismal and marriage records in Tullylish Presbyterian Church and also through Griffith's Primary Valuation and the subsequent cancelled books and then on to the Civil Records and the 1901/1911 censuses.
Mary Clugston of Drumhorc married Thomas Anderson of Lisnafiffy (11/03/1835) in Tullylish Presbyterian Church. The couple had 4 children, John, James, Mary & Anne. A John Anderson was a witness to the marriage between William Clugston & Lizzie Kennedy; James Anderson was a witness for their respective siblings Samuel & Maggie.
A daughter of Mary Clugston, Mary Anderson married John Watson and emigrated to America with their children about 1882. They appear in the 1900 US census in New Brunswick Ward 5, Middlesex, New Jersey (see Family Trees). The other three remained in the area. John & Ann stayed on the Anderson farm in Lisnafiffy while James became a Linen Bleacher.
There is no record of the marriage of John & Margaret Clugston but all of their children except William, the eldest were baptised in Tullylish Presbyterian Church.
Robert married Anne Mills in 1848 in the same church and their children were baptised there. Presumably Robert, shown in the townland of Drumhorc in Griffith's Primary Valuation, is the brother of John and remained on the original family holding.

There is a Robert Clugston in Drumhorc in the Tithe Applotment Books, presumably the Robert mentioned in the census extract. John Clugston must have acquired the land shown above in Griffith's Valuation in Lisnafiffy/Tullylish after the Tithe Applotment Books record though a John & Aron Clugston are both named in Lisnafiffy/Seapatrick.
Additional confirmation can be obtained from the Valuation Revision Books. John Clugston died in 1878 and this holding passed from him to his son, Robert in 1880.
Robert Clugston held #6 Drumhorc comprising 9 acres up to 1878. Then John Clugston acquired #6 & also #5 comprising 22 acres. He subsequently switched from # 5/6 to 6/7 in 1879.
Robert's son John appears in the 1901 census in Belfast as a Warehouseman; John's sons, Robert and John both appear as farmers in Lisnafiffy Upper in the 1901 census.]
In 1877 Robert moved from Drumhorc to Moyrorkan, Co Armagh. The family were still there in the 1911 census.
Earlier Clugston Records:
John Clugston was a Protestant householder in Seapatrick in 1766. John Clugston of Lisnafiffy was a registered Freeholder in 1769; Aaron of Lisnafiffy in 1789. In 1819 John & Aron Clugston both of Lisnafiffy were registered Freeholders. Both held land from Rev Thomas Waring for the same lives viz. John, Aron & Archibald.
Can they be connected to Robert Clugston from the neighbouring townland of Drumhorc?
There is an interesting baptismal record from Banbridge Non-subscribing Presbyterian Church:
2 July 1781 Robert son to John Clugston by Agnes Jarmison, Banbridge.
In the same register there are references to Clugston's of Lisnafiffy so I take the mention of Banbridge rather than Lisnafiffy as meaningful. Tithe and Griffith's Valuation records make clear that there were a number of Clugston families in the area.
Robert born in 1781 is the correct age to fit with the census fragment and may or may not be my 3x great grandfather but it is difficult to say with any confidence that he is of the Lisnafiffy family. Subsequently Robert's children Mary, John & Robert were all connected with Tullylish Presbyterian Church.
Some alternative hypotheses can be envisioned and it may be that DNA testing will help.

Archibald appears to have emigrated to the Isle of Mann before 1800 and many Clugston's who appear in census records throughout the 19th century descend from him. One modern descendant shares a DNA fragment with my sister (but not me). Without additional & triangulated matches it is not possible to say whether this match comes from the Clugston line. Nor is it possible to date it. It is not possible yet to connect Archibald to Robert, either as brothers or from an earlier generation.

Thoughout all this time the Landlords were the Waring family. They seem to have acquired it in the 1660s. Frustratingly I found a deed dated 1732. The memorial of the deed states that the tenants are named in the original deed, now presumably lost.
There were also Clugstons in the neighbouring townland of Kilpike. Whether all of these people represent the spread from a single individual or family or from multiple events is a matter of speculation.
Linen Industry in Tullylish

From the Ordnance Survey Memoirs of Seapatrick & Tullylish Parishes, 1834 by Lieutenant GA Bennett

Seapatrick Parish:
The total number of different mills that are in this parish are bleaching mills, 10, corn mills, 3, flax mills 2, flour mills 1 and 1 for thrashing corn.
Tullylish Parish:
Bleach Greens, Manufactories and Mills
The first bleach mill, on the river entering the parish from Seapatrick, belongs to Messrs J Smith and Co. It has several wheels. On the same premises is a corn mill. The next is a bleach mill belonging to J Foot Esquire, has 2 wheels; fall of water to both these concerns about 7 feet.
A little further down is the bleach mill of S Law Esquire, if not exceeding, at least equalling any other in the parish. It has two large wheels, one of which turns machinery for spinning linen yarn, the water fall about 8 feet. The next is a corn mill situated at Laurencetown bridge, the fall of water is 8 feet. It is the property of Mr D Lockhart.
Other mills are mentioned further down the river.

Extracts from M Cohen - Linen, Family and Community in Tullylish, Co Down, 1690-1914.
pg 177-8
The largest green in Tullylish located at Milltown, was owned by the Smyths. About 1824, John Smyth (1798-1890) purchased the land for Milltown Bleachworks and built Milltown house for himself and his family. His eldest son William (1826-1894) started the firm William Smyth & Company, linen manufacturers, and he and his brother John's (1830-1914) business eventually occupied 220 acres and employed 260 people. They had six iron water wheels, a foundry to serve the neighbourhood and also owned Banville Beetling Mills. The Milltown bleachworks was valued at 300 pounds, with the Smyths owning seventy-two houses in Drumnascamph and Lenaderg.
pg 181.
At some point between 1875-9, after Samuel Law's death, Thomas Dickson and William Walker, a linen merchant from Banbridge, purchased the premises and most of the workers' houses, establishing the Hazelbank Weaving Company (in Coose, near Lawrencetown). At the time of the 1879 valuation, the building was valued at 230 pounds and there were still thirty-six company owned houses. Dickson and Walker increased the number of powerlooms from seventy-five to 200 and built two preparing sheds. By 1886, Hazelbank Weaving Company employed 200 people, mostly young women, weaving drills, rough browns, buchrams and glass cloths.
Linen
Both Lisnafiffy and Lenaderg border the river Bann which throughout this time was noted for the manufacture of linen. The Clugston holdings are some way distant from direct bleach green activity whereas the putative Kennedy holdings are just beside or within the bleach green of the Smyth family. Certainly it is no surprise that the two Clugston brothers, William & Samuel, ended up in the industry. William became manager of Belfast establishment of Alex Tillie and Co of Londonderry. Samuel's route seems to have been more direct. The Liberal MP and entrepreneur, TA Dickson, who already had an establishment in Dungannon, set up the Hazlebank Weaving Co in Tullylish with William Walker (for his younger son, Tom) in the 1870s. This was confirmed by TA Dickson's great grandson, Tom; his elder son, James, ran the factory in Dungannon. I have to presume that it was through this connection that Samuel Clugston joined Dickson's Dungannon establishment prior to his marriage in 1874.

Almost all of the descendants of both Samuel and William (at least in the next generation) remained involved in the industry.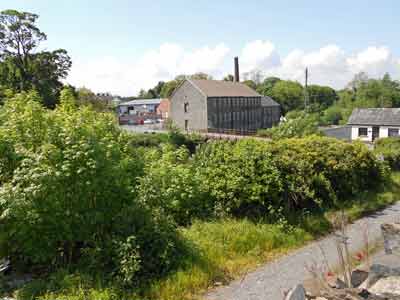 Clugstons, Kennedys & Andersons involved in the linen trade in 1901
While dry spinning of linen thread was practiced in Yorkshire and then Scotland in the 1790s, the resultant thread was coarse. In 1825 James Kay of Preston invented a wet spinning process which produced a finer thread. This resulted in a concentration of spinning, weaving and bleaching on the River Bann, and a decline in the industry in outer Ulster.
[Samuel Law, a bleacher, built the first spinning mill on the Upper Bann at Hazlebank in Lisnafiffy townland about 1834.]
In 1821 Robert Clugston is described as a bleacher and weaver, suggesting the beginnings of some modest affluence. Robert's sons, John & Robert and his son-in-law, Thomas Anderson were all farmers. Tullylish became part of the linen triangle and progressively industrialised throughout the 19th century. This is reflected in the progress of the family over the following generation and can be seen in some entries in the 1901 & 1911 censuses.
Samuel Clugston, my great grandfather was a book-keeper in a (linen) factory in Dungannon in the 1901 & 1911 censuses.
[see Clugston of Dungannon]
William Clugston, brother of Samuel, was a linen merchant in Belfast in the 1901 census.
[Obituary of Mr Wm Clugston, native of Banbridge, died Feb 10th, 1909
Manager of Belfast establishment of Alex Tillie and Co of Londonderry]
James Anderson, 1st cousin of Samuel & William Clugston and witness to the marriage of Samuel to Maggie Kennedy, was described as a master bleacher in Banbridge in the 1901 census.
[Obituary of James Anderson (died 8/10/1902).
Proprietor of Linen & Yarn Bleaching Works at Ballydown, Banbridge, died suddenly at his residence, Rose Lawn. At the inquest, Dr McWilliam gave his opinion that death was the result of the rupture of a blood vessel.]
James Kennedy, brother-in-law of Samuel & William Clugston was a linen manufacturer in Banbridge in the 1911 census.
[Obituary of James Kennedy (died 13/12/1912)
Died at his residence, Mount Royal, Banbridge.
At an early age he entered the firm of Dickson, Ferguson & Co, Linen Manufactures where he remained for 40 years, becoming manager of the Edenderry factory. He subsequently managed the Belfast Spinning and Weaving Co. After 8 years he returned to Banbridge as manager of Messrs R McClelland & sons. On the death of Andrew McClelland, JP the company was reorganised as the Banbridge Weaving Co with Mr Kennedy as Chairman of Directors.]
John Clugston, 1st cousin of Samuel & William Clugston & of James Anderson was a warehouseman in Belfast in the 1901 & 1911 censuses.
In the will of his brother, James, he is described as a Linen Warehouse Manager.

Links to main Family Index / Clugston of Dungannon
Back to Top