Clugston of Dungannon & Tullylish
Clugston Genealogy
Drumcoo cemetry, Dungannon
Although Drumcoo cemetry in Dungannon is located just across the road from my late grandfather, Jim Clugston's house, on Circular Road I have no recollection of ever having been there. Recently I came across an interactive web-site for the cemetry and after some searching I paid a visit.
It was a moving experience. My grandparents are buried there with two young children. I knew about Samuel, my mother's older brother, who died of meningitis aged 12. A younger daughter, Mary, died aged 20 in 1940. I only became aware of her recently; I suspect she had Down's Syndrome.
All four of my maternal great grandparents are buried there.
My grandfather was one of 6 siblings and all are buried there; my grandmother was one of 7 and 5 are there.
In addition on my paternal side, my 2x great grandfather's brother, Rev Charles Lucas Morell, is there with his wife and some of his children.
In all, if I include those who married into the family, I have connections to about 35 individuals in the cemetry, representing about 100 years of family history.
The genealogy of the Clugston family in Tullylish Parish can be seen under Kennedy of Tullylish. Here I want to discuss the involvement of the Clugston family in the linen trade with particular reference to the firm of the Dickson family of Dungannon.
The story starts with the marriages of two brothers, William & Samuel Clugston, to two sisters, Lizzie and Maggie Kennedy, in Tullylish Presbyterian Church.
In 1868 at the time of his marriage William was an accountant and living in Belfast. In the 1901 census he described himself as a linen manager & his two sons, John & Hugh as warehousemen (linen). William died in 1909 and a short obituary described him as the manager of the Belfast establishment of Alex Tilly and Co Ltd, Londonderry. In the 1911 census his son John was not living at home but Hugh was a linen manager as was his sister, Georgie.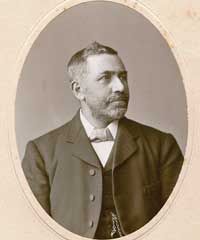 In 1874 at the time of his marriage to Maggie Kennedy, Samuel was an accountant and living in Dungannon. In the 1901 census he was a bookkeeper in a factory, his son William was a factory manager & his other two sons, John & James were clerks in a factory. In fact they all worked for Dickson's. The story hadn't changed by 1911; Samuel was still an accountant, William was still factory manager though no longer living at home, John & James were now described as office assistants. The death of John was recorded in the Tyrone Courier the following year: "He served his apprenticeship as clerk in Dickson out of which he received an important appointment in Malcolms' factory in Lurgan".
This picture is marginally added to in a letter to me from Tom Dickson in which he states that William retired as factory manager in 1948 and his son, Jim, also worked for the factory for a period.


Tyrone Courier: Thursday, October 2, 1913
Sad street fatality at Dungannon: Factory Manager's son killed

Evidence at the Inquest
A shocking fatality occurred at Thomas St Dungannon. A little boy, William Kennedy Clugston, aged 7, son of William Kennedy Clugston, manager at Messrs Dickson's factory was killed by being run over by a spring cart.
A number of boys, returning from Drumglass School, overtook a donkey cart. They were playing round the cart when a spring cart, driven by a farmer, John Campbell of Lisnagleer, came from the opposite direction. The lad was knocked down and a wheel passed over his body, tearing away a large blood vessel.
Dr Mann was speedily on the scene and conveyed the boy home but despite aid from Drs Mann and Sugars he died in a few seconds.
James Cassidy, Augharan, 13, driving the donkey cart said the boy left the witnesses cart and ran backways for some time. He saw Campbell's cart knock the boy down and gallop on out of site. He drove on for help and one boy went for Mrs Clugston.
Constable Murphy saw boy on road and went after Campbell who said he saw nothing. He appeared heavily under the influence of alcohol.
Campbell said he saw a lot of children and as he passed he shouted,
"There is eleven to the dozen of you", to which the coroner remarked,
"That is just what happened; eleven were left and one was killed".
The Jury found that the driver had been negligent.
1911 census for No 10 Thomas Street

William K Clugston 34
Alice M Clugston 28
William K Clugston 4
Helen Mary Clugston 2
My mother (Patricia Mc William / Clugston) once mentioned her cousin, Billy, who was killed by a drunken driver but it only became real to me when I looked at the death certificate and found the details of the inquest.
His sister, Helen, was organist in Dungannon Presbyterian Church and I met her frequently on our monthly visits to my grandfather in Dungannon.
While I always knew that my mother's older brother Samuel had died of Menengitis, she didn't talk much about him. But she did say that on the twelfth of July preceeding his death, he was missing for the entire day. It transpired that he had been holding the ribbons on one of the banners in the parade. His parents, who had no sympathy with the Orange Order, were not best pleased.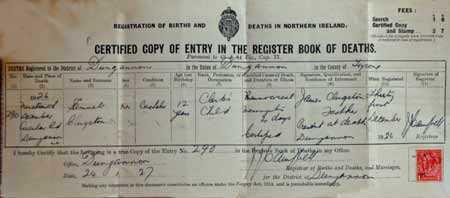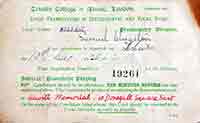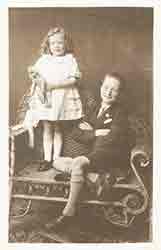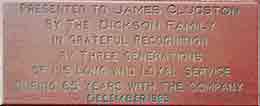 The story of the family involvement with linen, Dungannon and the Dickson firm ends with my grandfather, James Clugston. I have a clock presented to him on his retirement in 1963 after 65 years of service bringing to an end almost 90 years of involvement with this firm though I believe that by then it no longer had any involvement with the linen business.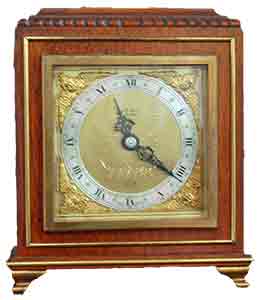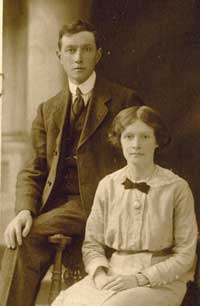 James Clugston was the grandparent I knew best. He only died in 1970. In fact after his retirement from Dickson's, after 65 Years of 'faithful service', he lived with us in Monaghan. I never felt he was comfortable there; he was too rooted in his own community in Dungannon. I always felt that the height of his ambition would have been to stand on the touchline of Stevenson Park watching his son, Samuel, playing for the local team – an ambition of course which was denied him
Tyrone Courier: Thursday Apr 11 1912
Junior Cup Final
Dungannon vs Sydenham at Rosetta Park on Saturday
The weather was fine but breezy
Dungannon:
J Clugston, G Gallaher, B Kelly, J Gillespie, AR McKinley, F Gill & S Little
HA Beatty, HG Benson, J Brown, SM Cross, JO Hamilton, RJ Grant, T Jackson & JJ Mills
Result
Dungannon: 2 Goals, 1 Penalty, 1 Penalty Goal (13)
Sydenham: 2 Penalty Goals (6)
The game was hard & close with both sides unwilling to let the ball out
Extract:
"From a free for offside Kelly narrowly missed making the score equal, & following this rushing forward play by Sydenham placed Dungannon's line in danger, Clugston in the nick of time kicking dead"
Links to main Family Index / Kennedy & Clugston of Tullylish / Charles of Dungannon & Cookstown / McWilliam of Monaghan
Back to Top