Charles of Cookstown, Dungannon & Kildress
Charles Genealogy

I received a tree of the Charles family of Kildress and Cookstown. With respect to some of the children of John & Esther Charles of Baltoneanan I have done some confirmatory work in the registers of Derryloran Church of Ireland in Cookstown vis. William, Thomas, Dr Henry Richard & Dr David Hughes Charles.
For me the key issue is the relationship of my great grandfather, Thomas Henry Charles to this family. No record of the birth of Thomas Henry to Dr Henry Richard Charles exists & indeed the latter's obituary mentions the death of his only son. However the marriage certificate of Thomas to Amelia Rogers in 1885 gives his father as Dr HR Charles.
I can only conclude that Thomas was illegitimate.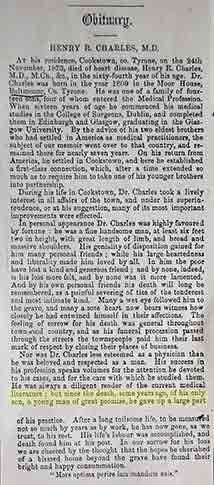 In the Derryloran Baptismal Registers is the following enty:
1859, May 17 Thomas Seaton, a foundling, supposed to be 4 months, in the care of Isabella Seaton, Coolseaghs. The date fits but . . .
Of more interest are entries a few years later:
born Dec 18 1865, baptised July 26 1866, Annie, father, Henry Charles MD (as alleged), Cookstown, mother Margaret Cheevers, Orritor St &
born May 7 1870, baptised July 31 1870, John, father, Henry Charles MD [as alleged], mother Margaret Cheevers, Cookstown

Of course the alledged involvement of Dr Henry Charles in two illegitimate births is no proof of his involvement in another. I can't prove anything but then, in the absence of DNA evidence, even the presence of a perfect paper trail can't prove paternity conclusively either.

The Tyrone Courier Thursday, July 13 1911
Important to Farmers
CHEAP FEEDING
for
CATTLE PIGS AND POULTRY
Distillery Grains and Paste Meal for Sale,
In calico bags containing 1 cwt. each
PRICE 1/8 Per bag
NOTE:- This is a Feeding stuff prepared
from Barley, Corn and Maize, by the Scotch
Distillers. It has a pleasant smell, and will
be found a very cheap, wholesome and valueable food for Cattle, Pigs and Poultry.
Prepared for use by the application of boiling water in the same way as any other feeding meals. Special Terms for Large Quantities
SOLE AGENTS for Dungannon and District T. H. Charles & Son, COAL MERCHANTS, & C.
Scotch Street Dungannon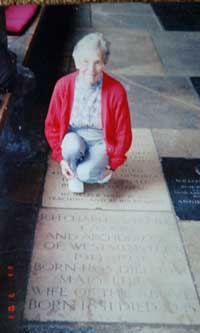 Thomas Charles told his children that he was living with an uncle on a farm and that when his father died, another uncle, a doctor came to collect him and bring him up with his own family. He stated that one of the cousins he was brought up with was called Richard Havelock. The latter was a son of Dr David Hughes Charles born in 1858 about the same time as Thomas. As an aside the children of David Hughes Charles were particularly distinguished including a couple of University professors, a Dean of Westminister Abbey and Richard who ended up as the personal physician of the Prince of Wales, later Edward VII.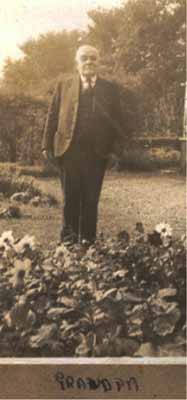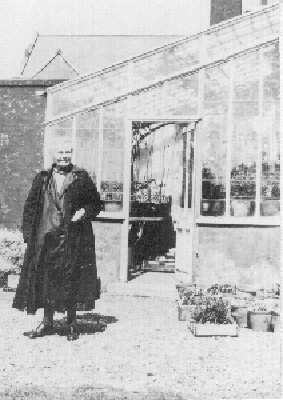 Dungannon Methodist Church
Baptisms on 6th Oct 1896

Maude Charles b 5/8/1886
Anna Jane Charles b 4/6/1888
Edith Charles b 13/5/1890
Thomas James Charles b 22/7/1892
Herbert William Charles b 6/1/1894
Violet Amelia Charles b 15/5/1896 (Note added; she must have lived at least 5 months)
Frederick Henry Charles b 3/6/1898 bapt 10/7/1899

Amelia Charles seemed to have joined the Methodist Church in the 1890s; there is no evidence that Thomas Charles was ever a member
Links to main Family Index / Rogers of Killyman / Clugston of Dungannon
Back to Top