Rogers of Killyman
Maternal DNA Line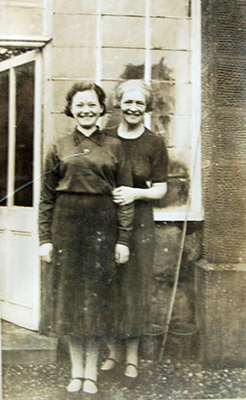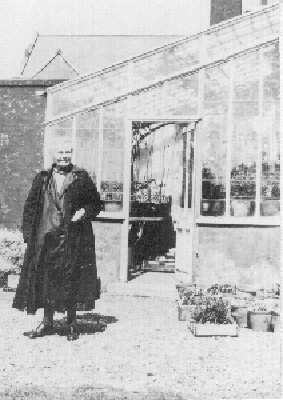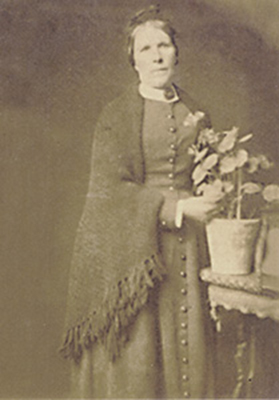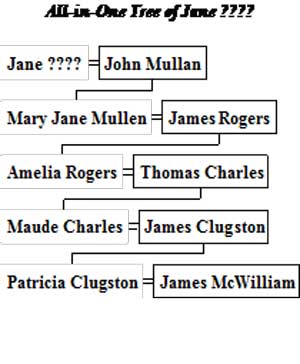 Mitochondrial DNA is passed exclusively down the maternal line so that, for example, my mitochondria derive from my mother, Patricia, my grandmother, Maud, my great grandmother, Amelia & my 2x great grandmother, Mary Jane.
My Mitochondrial DNA is type H which is the most common haplotype in Western and Atlantic Europe. Based on the full sequence the sub-type is
H3b1b1
.
Family tree DNA identifies 4 exact matches. Three of these matches didn't respond to e-mail queries & of those one gave no information about the maternal line while the other two placed their most distant maternal line ancestor in the US in the mid-19th century. The fourth match identified the ancestor as Mary Jane Ballantine, born about 1806 in Co Armagh. No documented or paper links have yet been established based on my Mitochondral DNA sequence. Since Mitochondria can be passed unchanged for many generations this test is not ideal for genealogy. In practice Mitochondria can be useful in excluding possibilities or in conjunction with other evidence.
The Killyman Parish Registers go back before 1800 so that in principle it ought to be possible to trace my Mitochondrial DNA a generation or two further back.

Mary Jane Mullen was born to John & Jane Mullen in 1828. A year previously the marriage of John Mullen of the Parish of Tartaraghan to Jane (Greenaway/Greenwood) is recorded but this couple baptised a child in Tartaraghan exactly at the time Mary Jane Mullen was being baptised.
No record of the marriage of Mary Jane's parents could be found
I recently came across a Family Tree on Ancestry which gave Mary Jane's mother as Jane Watters. This tree overlapped with and was perfectly consistant with mine and was presumably based on family information. It would be useful to have additional confirmation.
On DNA GEDmatch, a match to my Family Tree Autosomal DNA test gives her great grandmother as Pearl Watters of Killycolpy, parish of Ballyclog in the 1901 census. Pearl's father, James & grandfather, Robert, were farmers in Ballyclog, Co Tyrone which is not far from Killyman parish where Mary Jane Mullen was born. The Watters appear to have been Presbyterian and the relevant church records covering the period around 1825 when John Mullen married Jane ???? have not survived. It may be the case that documentary evidence identifying the mother of Mary Jane Mullen as Jane Watters (or otherwise) will never be found.
It may then be necessary to fall back on DNA testing. While it is not safe to conclude that a single match is sufficient to define where on two family trees a match is localised, the conjunction of name & place merit further exploration. Unfortunately at the moment I have no further matches in the relevant region of chromosome 13 to create a triangulated group. However I do have a common segment of DNA in this region with a paternal 1st cousin who does not share the match so at least I can be sure that it is a maternal line match.
The take home message may be that for most purposes an Autosomal DNA test is more useful than a Mitochondrial DNA test.
Rogers family

The records of Killyman Church of Ireland Parish go back to the 1740s and entries for the Rogers family are found throughout the register (see Certificates/Church Records/Killyman)
In three successive documents my great great grandfather James Rogers is described as a farmer, a labourer and a coachman respectively. At the time of his marriage in 1855 and the birth of his first son in 1856 he is described as a farmer of Drumhorrig. His father, Thomas had a house and 9 acres of land there in Griffith's Valuation in 1860.
When his daughter Millie 'Amelia' was born in 1858 he was a farmer in Mullenakill; when his second son, Thomas John, was born in 1864 he is described as a labourer of Derryhubbard.
By the time Amelia was married in 1885 he had become a coachman and in the two censuses of 1901 & 1911 he gives his occupation as retired coachman. While the Verner family of Churchill (Mullenakill) are close to the townlands he lived in, I have not found evidence for such a link.
Orange Lodges in Killyman District from House of Commons Papers xv 1835
Lodge Master Location
No
003 Joseph Black Moy
033 Richard Lloyd Tamnamore
090 Thomas Hide Drumcrow
093 Abraham Heazleton Bovain
157 James Williamson Ballinakelly
163 Alexander McLean Bush
178 Arthur Sloan Dungannon
183 James Butler Newmills
206 Thomas Rogers Drumcrow
296 Robert Reid Eglish
338 Benjamin Cross Kinego
364 John Buddy Dungannon
375 Samuel Reid Eglish
429 Thomas Joyce Moy
708 Samuel Kerth Mageshel
755 John Kerr Drummond
856 John Black Drumesple
1012 Philip Kelly Eglish
1220 Jackson Richardson Tamnamore
1250 Thomas Mills Moy
1283 Wm McClelland Kinego
1477 James Stothers Dungannon
1611 Richard Courtney Cullnagor
James' father was Thomas Rogers who was living in Drumhorrig at the time of Griffith. It was possible to identify the birth of Thomas and a number of siblings in the Killyman parish registers to Michael & Anne Rogers and link them through a series of land records - Griffiths Valuation, Tithe Applotment Books and fragmentary records of theDrumesple/Drumaspil estate of Alexander G Stewart - to the townlands of Drumcrow and Drumhorrick.
In the Ordnance Survey Memoirs for Killyman Parish in the 1830s it says that Killyman is chiefly famous for the Killyman Orangemen. It transpires that Thomas Rogers was Master of an Orange Lodge in his native Drumcrow townland.
Robert Bell in his "Book of Ulster Surnames" notes that while Rogers can derive from Roger, in Tyrone it can also be an anglicisation of McRory and he notes that up to 1900 in the Dungannon area Rogers was used interchangeably with McRory or McCrory.
From the 1911 census, Records of the Drumesple/Drumaspil Estate of the Stewart family, Griffith's Valuation, the Tithe Applotment Books and the 1666 Hearth Money Rolls it is possible to identify a continuous presence of McRory's in the townland of Drumcrow, where my Rogers ancestors were located at the beginning of the 19th century. The McRorys were Catholic; is it possible that this branch of the Rogers family converted or conformed in the 18th century?
Full genealogicial report on the Rogers / Mullen families
Links to main Family Index / Charles of Dungannon / Clugston of Dungannon / DNA
Back to Top