Donaldson of Creggan
Extract from Statistical Account of the Baronyof Upper Fews by John Donaldson (see Manuscripts).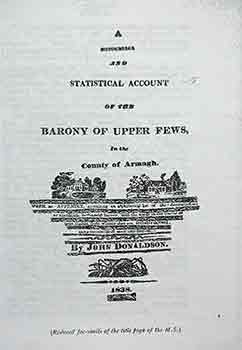 About the year 1733 several landed proprietors of the then parish of Creggan - to wit, Edward Tipping, Alex. Hamilton, James McCullagh, Adam Noble, and Randle Donaldson, Esquires, invited Presbyterians to settle in their respective estates; great part of same being waste, and but thinly inhabited; and other parts being under stock; and for their encouragement also invited Rev. Alexander McCombe, a licentate of the then Presbytery of Killileagh in connection with the general Synod of Ulster, to become their minister, which invitation he accepted of, and was ordained at the Fews Barracks, Minister of the Presbyterian Congregation of Creggan by the said Presbytery in the year of our Lord 1734.
One of the earliest settlers was Alex. (ban) Donaldson, the ancestor of the numerous families of that name in Cloghog and other places. He first came from Lecale in the County of Down …………..
He likewise gave the one half of the north quarter to his fourth son Samuel Donaldson on his marriage; and bequeathed (among other things) his house and the remaining half of the north quarter to his youngest son, Joseph Donaldson.
Registry of Deeds: 172:356:116790 - 17th November, 1740
Randal Donaldson of Castledillon grants to Alexander Donaldson of Phillipstown the ¼ of Cloghoge called McShanes ¼
For the lives of Samuel and Joseph Donaldson, 4th & 5th sons of said Alexander
Alex Donaldson his x mark.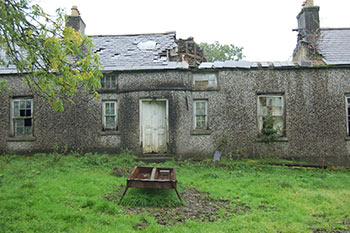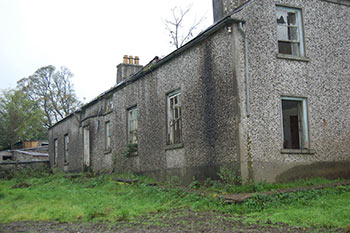 While the original house was doubtless extensively rebuilt one of the upstairs windows is marked 1742.
It appears that Cloghoge Lodge passed to John Wallace who was married to Joseph's daughter, Jane and then to John's son (by a former marriage) Robert and thus out of the Donaldson family.
In Robert Wallace's book, Forty Years in the World, there is a very detailed description of the funeral of his step mother in 1823 (see Jane Donaldson's funeral in Manuscripts)
Donaldson Genalogy
An extensive genealogy of the Donaldson family was prepared by Ron Donaldson, whose ancestors emigrated to America before 1800.
The family only used a very limited set of first names viz. Alexander, John, William, Samuel and Joseph and seem to have followed the custom of naming the first born son after his paternal grandfather. This meant that in the third generation there could have been several Alexander Donaldsons, all born about the same time, living in the same area and all 1st cousins. In this regard the book by John Donaldson is invaluable in providing a secure start point for the genealogy. Elsewhere, in Carnteel for example, it is virtually impossible to distinguish the various McWilliams, John, James, Thomas etc from one another, particularly since the McWilliams probably arrived in Carnteel rather earlier.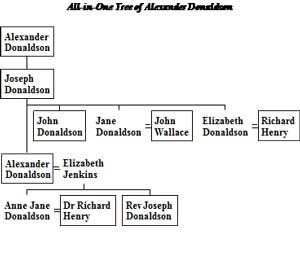 Here I will confine myself to tracing my own ancestry back to the first Alexander Donaldson.
Anne Jane Donaldson married Richard Henry. Her brother was Rev Joseph Donaldson and his father was Alexander Donaldson of Tullyvallen.
An account of Rev Joseph Donaldson is given by a colleague, Rev Thomas Armstrong (see Manuscripts)
Alexander Donaldson died in 1834 and he is buried in Freeduff graveyard with his eldest son, Joseph, who died young. Presumably Rev Joseph was born after the latter's death. His will has survived. His executors were his widow, Elizabeth and James Jenkins of Altnamakin. and his daughter, Anne Jane is mentioned. A family pedigree gives Alexander's wife as (Anne Jane sic) Jenkins.
A series of deeds ca. 1796 establish that Alexander Donaldson, son of Joseph Donaldson and brother of Joseph, jun, and John acquired land in Tullyvallen. John Donaldson in his book describes himself as son of Joseph and therefore a brother of my 3x great grandfather, Alexander.
Links to main Family Index / Henry of Clones / Wallace of Loughgilly & Creggan / Dickie of Annavacky
Back to Top