Wallace of Loughgillie, Creggan & Newry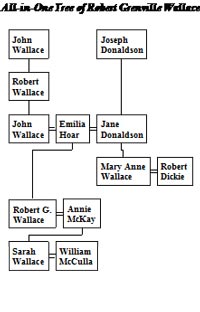 Wallace Genealogy
I have been able to trace the Wallace genealogy back from Robert Grenville Wallace to a deed citing John Wallace of Rathcarbery and Lisnalee in the parish of Loughgilly, Co Armagh in 1732.
In his disguised memoir, 'Fifteen Years in India' he mentions the Parish of Loughgilly and the townland of Rathcarbery.
His father, John, executed a deed for Alex Jenkins near Newtowntownhamilton & the memoir was witnessed by Robert Wallace of Rathcarbery.
Robert's King's Inn Admission Papers say he was educated in Maghernahaley which is beside Bessbrooke, about two or three miles from Rathcarbery.
Further details about Robert's life in India and Ireland can be gleaned from Forty Years in the World (Vol 1), (Vol 2) & Vol 3). Some extracts from the Memoirs are in Manuscripts.
I have published a descriptive summary of these books in an Article for the Journal of the Creggan Historical Society
Robert's mother, Emilia Hoar, died young and his father remarried to Jane, daughter of Joseph Donaldson of Creggan. Financially embarrased John Wallace went to America about 1797 leaving his wife and daughter with her father and Robert with his grandparents. Robert ran away, joined the army and ended up in India.
In his book "Forty Years in the World, Vol 1, Robert says:
"It cost me, however, many a tear, to think of leaving the dear old lady, whose tenderness had completely won the affections of my heart; but I was now in the fifteenth year of my age, and I often reflected upon my dependent situation. The narrow circumstances of my grandmother and her son, who managed her concerns, I well knew: indeed, he had sometimes hurt my pride, by throwing out hints that I was a burthen on him, and that my father's folly had ruined his family; yet, I owe him the justice to say that he was, in general, an affectionate uncle; ----------.
A whipping, which I received from my uncle a short time after, overturned all my grandmother's wise admonitions. I determined never to receive another like it from the same hand; and that very night, with a wallet, containing my little wardrobe, and a flute, upon which I had learned to make a noise, I sallied forth on the road to Dublin. --------.
Early next morning I reached Dundalk, through the mountains of Jonesborough; and, taking a seat on the top of the Newry Fly, I arrived, that evening, in the city which had given me birth."
The panorama above taken from the East side of Slive Gullion shows my take on his probable route. The reservoir of course wasn't there at that time. Bessbrooke is behind the centre of the reservoir and Rathcarbery a couple of miles further back. I assume he would have walked along the line of the water to Jonesborough and Dundalk, situated beyond the extreme right of the picture.
[Any correction from someone with superior local knowledge would be welcome.]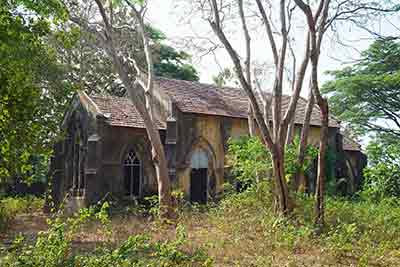 Title: British Library: Ref N/2/3 folio 178
Text: Robert Wallace, a sergeant in H.Ms 90th (or 70th) Regiment married Miss Ann McKay at Cannanore February 12th 1807.
The entry reads; this marriage was solemnized between us Robert G. Wallace and the mark X of Ann McKay.
(Document above located by Beverley Clarkson)
The document below shows that he joined the 80th Regiment. Click on image to see larger version.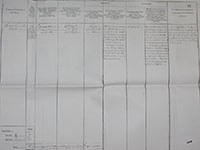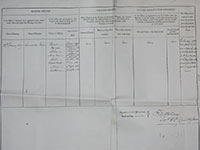 St Patrick's Church of Ireland graveyard, Newry
[Granite headstone & walled enclosure]
In memory of Robert G Wallace, solicitor, formerly Lieut. in HM 65th Regt, died 12th Aug 1851 aged 62 years.
Annie Wallace his wife died 16th May 1859 aged 63 years.
This implies that Annie Wallace was born about 1796 and was therefore about 11 years of age at the time of her marriage. This is precisely what Robert states in his Memoir.
The Attorney's Office' from Robert Grenville Wallace in 'Forty Years in the World', 1824
My father had expressed a wish that I should devote myself to his profession, and I felt anxious to do so; believing that it would be in my power to contribute to the comfort of his old age. I, therefore, accompanied him to the different towns in which he had offices, where, on market-days, he attended for the purpose of being near his clients. Everything was so new to me, that I occasionally experienced great amusement from the succession of variety which characterises an attorney's office.
When the quarter-sessions of the peace approached, our office was crowded to suffocation with all descriptions of persons pressing forward with eager solicitude. What a contrast their anxious and distorted countenances presented to the quiet, business-like aspect of my father, who considered this as his harvest.
Edward Street, Newry where Robert Wallace lived in the 1840s. His daughter, Anne Jane McCulla later ran a school in the same street.
Links to main Family Index / McCulla of Newry / Donaldson of Creggan / Dickie of Annavacky
Back to Top