McCulla of Newry
I have currently no idea where William McCulla came from; it appears that an older brother, John, married Anne Jane Wallace. This marriage took place in Dundalk Presbyterian Church and I presume the couple started their married life in that town. John may have died relatively young because by the 1850s Anne Jane McCulla was running a school first in Edward Street and later in Kildare Street.
Sarah McCulla
Born October 24, 1821: (from RG Wallace's army discharge papers)
Baptised 23 Jan 1822 by Rev Mr Malcolm in Newry Presbyterian Church
Married to William McCulla August 05, 1836 aged 14 years (from a Newspaper announcement)
From the Baptismal Records of Sandys Street Presbyterian Church, Newry
Children of William McCulla and Sarah Wallace
Anna Maria, December 07, 1839
Robert Wallace, September 23, 1841
Sarah, October 16, 1843
William, June 10, 1845
James Shields, December 04, 1846
Catherine Jane, July 09, 1848
John Henry, April 15, 1850
????, July 14, 1851
Eliza, April 12, 1853
Mary Margaret, June 22, 1855
Joseph Dickie, December 14, 1857
John, July 11, 1858
Helen, July 20, 1861
Died, March 31, 1867 aged 45 years (from a newspaper announcement)
This is all I know about my great, great grandmother
William McCulla
24th Oct 1834, William McCulla commences the grocery business at 53 North St previously occupied by William Mateer.
In 1844 he moves to 2 Lower North Street.
(NB North street was pulled down to build Corporation flats in the 1960s)

From the Ordnance Survey Memoirs, October, 1836.

Lower North Street extends from Trevor Hill to Upper North Street and is composed of Huxter's shops. It is a narrow dirty street, in length 160 yards. Upper North Street is composed of shops and extends from Lower North Street to Market Square, which is 170 yeards. Market Street is composed of huxter's shops and butchers stalls. It is 250 yards in length and contains the meal market, the meat market and the potato market. Market Square, which is more like a rectangle than a square, is composed of shops. In it the huxters place their stalls on market days.
From a Provincial Directory in 1861:
[McCulla, Mrs., boarding and day school, Sandys Street.
Elsewhere she is described as Anne Jane McCulla & I suspect she was in fact the sister of Sarah]
McCulla, Wm., grocer, spirit dealer and agent for Dundalk Steam Packet Company, 2 Lower North Street.

William McCulla as a Public Official
3 July 1849 - elected Town Commissioner for next 2 years.
2nd Aug 1851 - Chairman of town Comm.
2nd July 1855 - 2 more years.
25th Jan 1858 - One of a committee re eligible site for 'The Russian Gun'.
5th July 1858 - 2 more years
1st July 1861 - 2 more years
4th July 1864 - 2 more years.
The duties of the Commissioners involved the Night Watch, lighting Gas Lamps & organisation of markets, under an Act for lighting, cleansing & watching.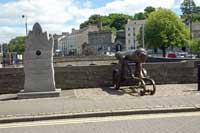 The Russian Trophy: Situated on the bridge outside the City Hall, this 19th Century canon which was captured in the Crimean War was presented to Newry in recognition of the men from Newry who volunteered to fight in the War.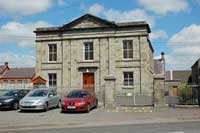 While his wife's name only appears in respect of the baptism of her children, William McCulla, was more involved in the administration of the affairs of Sandys Street Presbyterian Church.
A house at No. 11 Downshire Place was bought as a manse from Mr. Robert Greer at £100, and by deed dated 9th May, 1855, the property was conveyed to Messrs. Samuel Parsons, Robert M'Blain, James M'George, and Wm. M'Culla, as trustees for the Congregation.

It was decided by a majority of the Congregation to present a call to Mr. William Todd Martin, a licentiate of the Belfast Presbytery. To this decision the minority were so strongly opposed that they seceded, and determined to organize a new Congregation. This minority included all the members of Session, and all the surviving trustees of the Manse property, the Congregational Secretary, and several members of Committee. The inclusion of so many office-bearers among the seceding section, and the fact that they took with them the books of the Congregation, did much to complicate matters; and both majority and minority were for several years a source of care and trouble to a Commission of the General Assembly. But the points over which friction arose, and the successive stages of the struggle, have long since been allowed to drop into oblivion, and no good could be accomplished by reviving unpleasant memories. It is enough to note that the minority worshipped at first in the Savings Bank, and later on in the Primitive Methodist Church, Kilmorey Street, the same building in which the parent Congregation had passed through its transitional stage; that they were erected the third Congregation in Newry by ordinance of the General Assembly in 1863 ; that they called Mr. A. C. Murphy (afterwards Dr. A. C. Murphy), son of the well-known Professor of Hebrew in Assembly's College, Belfast, who was ordained their minister; that while under his ministry they built the ornate and comfortable church known as Riverside;
Speculation on McCulla genealogy

A newspaper announcement states that my 2x great grandparents, William McCulla & Sarah Wallace were married on the 5th August, 1836. I can extend the genealogy of Sarah back somewhat but I have no further information on William's origins.
From his death certificate it seems that he was born about 1814 but the first mention I can find of him is opening a grocer's shop in North Street, Newry in 1834:
24th Oct 1834, William McCulla commences the grocery business at 53 North St previously occupied by William Mateer.
In 1843 he moves his premises to 2 Lower North Street and he can be found there in Griffith's Primary Valuation.
Some possible clues to his origins may be gleaned / speculated from a series of entries from Memorials at the Registry of Deeds in Henrietta Street, Dublin.
In particular a deed (385:30:253433) dated 24 Oct 1786 shows that John Aikins, City of Dublin, Cabinet Maker conveyed to James & John McCulla, Lisnagade, Co Down, Linen weavers a tenement in Dirty Lane, now North Street.
A further deed (650:419:449001) dated 20/2/1809 and registered 21 Sept 1812 shows that the same family was still in possession of the tenement as James McCullogh, Banbridge, eldest son of John McCullough, dec'd conveyed the same premises to Martha McCullagh, Ballnafoy, Annaclone, Co Down, Widow. It seems possible that Martha was the aunt of James.
Additional deeds allow one to build up a picture of the owners of the neighbouring tenements but so far I have not been able to confirm that this property, occupied or leased by Martha McCullagh around 1812 is the same one (#43) where my ancestor William McCulla opened his grocery business in 1834 but it remains an intriguing possibility.
McCullas continued to reside in the townlands of Ballynafoy, Annaclone parish & Drumnahare, Ahaderg parish when the Tithe Applotment Books were compiled and beyond. It is possible that descendants of these might take a DNA test at some time and confirm / eliminate this putative link.

Links to main Family Index / Wallace of Loughgillie, Creggan & Newry / Dickie of Annavacky / Henry of Clones
Back to Top