Henry of Clones
Henry Genealogy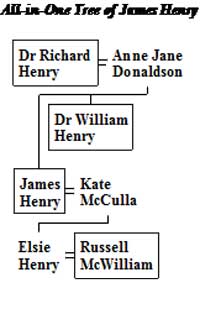 My grandmother's parents – James Henry and Kate McCulla – were married out of the house of Joseph Dickie by Rev Joseph Donaldson. The respective fathers were Richard Henry and William McCulla.
Serendipity led me to Stonebridge Presbyterian Church. There I scored my first gravestone and the burial place of Dr Richard and Anne Jane Henry and some of their children. The records of the church show the birth of the children of Dr Richard Henry and Anne Jane Donaldson including James in 1850. Church records indicate that the Henry family had lived in the area for a couple of generations but working out a precise genealogy is difficult.

Richard qualified as a doctor in the Royal College of Surgeons in London and further trained in midwifery in the Rotunda in Dublin. He started his practice in Newbliss but later moved to Clones. Almost the only record of him that I have come across are some references in 'A coroner's notebook' for Monaghan where he is recorded as performing autopsies on two babies who had been abandoned.

Presbyterian records state that Rev Joseph Donaldson's father was Alexander of Tullyvallen and on the presumption that Anne Jane and Rev. Joseph were siblings I let him direct me to Creggan and Freeduff. The marriage records of Freeduff show that on 7 Dec 1842 Anne Jane Donaldson, daughter of Alexander Donaldson of Tullyvallen, married Richard Henry. The marriage was carried out by Rev Joseph Jenkins. It is likely that he was a brother of Anne Jane's mother, Elizabeth Jenkins.
There is some mention of Anne Jane's brother, Rev Joseph Donaldson, in a book by Rev Thomas Armstrong (see Manuscripts)
Clogher record

Inquests on Currin Victims Coroner Wm Charles Waddell by Pilip O'Mordha
Inquest on male infant 25 Apr, 1852 in Scotshouse
In the hedge a bundle rolled up in dirty calico & on lifting it saw the hand and head of a child.
Found two children in the bundle a male and a female
A week since a begging woman asked the way and distance to Ballyhaise
Dr Henry of Clones
Male died possibly by suffocation caused by hand or wet cloth over mouth
Female couldn't determine cause of death
Pat Connolly 13th Now 1851 - A young child found in a flax hole
Dr Henry of Clones examined the body of deceased; no marks of violence;
With reference to the child not sinking, he said that this was because the child having taken a full mouth of water & also aided by its clothes & the full habit of body of the dec'd it being a fat child.
Northern Standard, Nov 9th, 1895
The "Medical Journal" on Clones Workhouse
Dr (William)Henry was required to render a detailed report on sanitary conditions
He has done so and has condemned in no measured terms the inefficiency of the nursing staff and insanitary conditions.
He is met with "the Committee do not recommend any alteration in the system of nursing or the sanitary arrangements".
A number of the children of Richard entered the medical profession (see Qualifications / Medical Records). Alexander Donaldson may have been their child or a son of Alex and Margaret but he as well as Richard, Joseph and William all became doctors. William was the only one who remained in Clones until his death in 1927. He is buried with his parents in Stonebridge.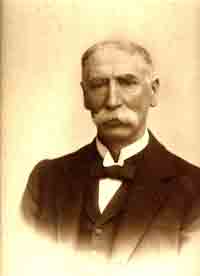 My great grandfather, James, became a solicitor. He was apprenticed to Joseph Dickie in Dundalk and in 1877 married the niece of Joseph's wife, Kate McCulla. At the time of this marriage he was working in Cavan but subsequently moved to Dublin where he practiced for the rest of his life. He was President of the Incorporated Law Society of Ireland in about 1913/14. His daughter, Elsie, though born in Dublin, married Russell McWilliam and returned to Monaghan where she lived the rest of her life (Photograph in Title Bar).
Henry genealogy
Dr Richard Henry and Anne Jane, his wife are buried in a substantial fenced grave just in front of Stonebridge Presbyterian Church though he lived the latter part (ca. 40 years) of his life in Clones, a few miles away. All his children were baptised there. Since he started his medical career in Newbliss, I suspect that it was family connections that drew him to the this church. This raises two related and as yet unanswered questions. How long had Henrys lived in this area and can I link Dr Richard to them?
There are no Henrys in the Hearth Money Rolls of 1663 / 5 though many of the relevant townlands in Clones & Killeevan parishes are mentioned. In fact most of the names appear to be native Irish. It appears that significant Presbyterian migration to Monaghan and particularly the Clones area only began around the time of the Williamite Settlement in the 1690s. The first minister in Stonebridge, Patrick Dunlop, was ordained in 1703.
The townlands in Killeevan & Clones parishes where Henry's resided after 1795 are all mentioned in the Hearth Money Rolls of 1663 / 5. No Henry's are identified.
A James Henry of Monaghan is mentioned in the list of those attainted under James II in 1689.
A number of Henrys in Monaghan are noted in Pre-1858 Wills & Administration Bonds:
Andrew Henry, Monaghan, 1723-4; Walter Henry, Knockreagh, 1740; Alexander Henry, Knockreaagh, 1762; Thomas Henry, Smithborough, 1759; John Henry, Crievely, 1815 & Francis Henry, Liscorty, 1835.
Of course these wills no longer exist and no connection can be made.
The Registry of Deeds, the Records of the Estates of William Forster in Killeevan parish & the Barrett-Lennard estate in Clones and a census of the Stonebridge Congregation in 1835 by Rev William White all provide information on Henrys living in the neighbourhood of Stonebridge where there seems to have been a concentrated Presbyterian community.
The father of Anne Jane Donaldson, Alexander, was the son of Joseph Donaldson of Cloghoge and another deed indicates that Joseph's daughter, Elizabeth, married Richard Henry son of Andrew Henry of Annamakiff in 1783. As part of the marriage settlement Andrew gave Richard the lands of Annamakiff in Killeevan parish. This townland was within a couple of miles of Stonebridge.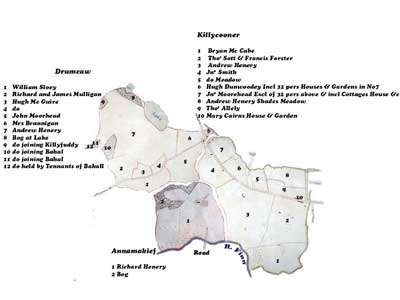 William Forster had a survey conducted of his lands in Killeevan in 1795. A composite of maps of some relevant townlands is shown. Richard Henry held most of Annamakiff while Andrew Henry held lands in two adjacent townlands and also land in Gransha townland in Clones parish (where Stonebridge Presbyterian Church is situated). Whether there was more than one Andrew Henry at this time cannot be determined.
There is also a series of Rent Rolls for the Forster estate covering the years 1803-1822. Richard Henry is not mentioned but throughout the period the lease holder in Annamakiff is the widow of Andrew Henry.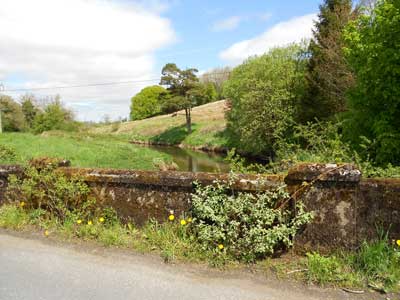 An Andrew Henry was an elder in Stonebridge Presbyterian, Feb 5th 1805.
In the Tithe Applotment Books for Killeevan in 1825, Widow Hennery (mis-transcribed as Hennesy) held 41 acres while Andrew Henery held land in Drumcaw in Griffith's Primary Valuation in the 1860s.
Rev William White, minister of Stonebridge conducted a survey of the members of his congregation in 1835. At the time, living in Annamakiff were Widow Henry with Richard and Andrew and also Alex & Margt Henry, Eliza, Mary & Alex. The latter couple appear to have been married in 1827.
It remains impossible to make the formal link from Dr Richard Henry who married Anne Jane Donaldson back to Richard Henry who married Anne Jane's aunt Elizabeth Donaldson in 1783. Was he the grandson of this couple or some other relative?
It can only be hoped that at some future date a DNA match might bridge this gap!
Links to main Family Index / Donaldson of Creggan / McCulla of Newry / McWilliam of Monaghan
Back to Top